Version 0.5.0.4 is out now. Get it from the Downloads page.
Bluetooth

A big leap in the development makes the mod Bluetooth capable now. You can use your power sensor, cadence sensor, speed sensor or heart rate sensor if they are Bluetooth enabled, but what is more important, thanks to the investigations of Keith Wakeman from Titan Lab, you can use now your Elite Sterzo Smart steering device to control the steering in the game (works with clones too, like the Sterio or the Kommander). So now there are 2 different options to drive around Los Santos, Tacx BlackTrack and Elite Sterzo Smart.
Unfortunately, Bluetooth FTMS is not supported yet, so the trainers using that protocol will not be controlled by the mod over Bluetooth. But don't be upset, BLE can work in combination with ANT FE-C and most trainers can use both protocols for control.
Virtual speed
A big change has been made regarding speeds in the game. The trainer won't be a trusted source for speed anymore and speed will be calculated always based on power and environment (virtual). This decision was made because the parameters that are part taking in the simulation now are much more complex than what any trainer can understand. Now the terrain and the rain conditions affects how the bike performs so if you choose the wrong bike for the ground you are riding, you'll see how your speed will suffer. Just stop and change bikes to a more apropriate one and keep going.
This change also helped finding an existing bug affecting power meter users that was making virtual speed slower than expected in real life. This is fixed now.
Bike city
Another great addition from the hands of Cassio Davi, one of the developers, is Bike City. Bike city has been integrated in part into the mod and it allows to swap motor vehicles in the game for bikes, making Los Santos a much more bike friendly city. The percentage of bikes vs cars and other parameters can be configured in the settings file.
Bots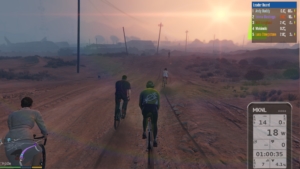 And the last of the big additions to this version is the introduction of Bot riders. Bot riders are automatic cyclists that will ride alongside you for a challenge or to make you company. They can be of 4 different riding skills and you can choose how many (up to 5) and what kind of Bots you want in your ride using the settings file.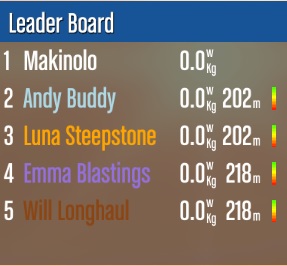 The different skills are:
COMPANION (blue): Will ride by your side as long as he has enough energy
CLIMBER (orange): Will ride harder on the uphills and weaker on the flats. The steeper the better for him
SPRINTER (purple): Performs best on flat or downhill terrain, engaging in short sprints when the terrain is favorable
TIMETRIALER (brown): Stolid rider. Will maintain his UPF as long as his stamina lasts, ideal for maintaining constant power output
All the Bots have your same base UPF value and weight in order to ride as close to you as possible, so if you want them to be useful, keep your UPF accurate and updated.
Several other smaller bugs have been addressed. The complete list of changes can be found at the end of the post.
I know it's summer in the Northern hemisphere and you won't be riding indoors as much, but as usual, enjoy and use the Facebook group to report any problem you encounter.
Cheers!
CHANGELOG 0.5.0.4
Bluetooth support for power meters, cadence, speed and heart rate sensors and for Sterzo steering device
Improved simulation accuracy. Bikes perform differently and are suited for different terrains. Bike names changed
Speed is always virtual now, even when using a trainer, to be able to apply all the simulation parameters
Bike city. Converts part or all the traffic into bicycles
Bot support for courses. 4 different types, number and type configurable in the ini file
Leader board for bot position, w/kg, energy and distance
Screenshot of the activity summary
Fixes normalized power and average speed calculation
Fixes virtual speed aerodinamic drag parameters. Speed increased when using powermeter
Fixes drafting behind bikes
Fixes installer when downloading new version of SHVDN
Updates the INI file automatically with new entries for the current version
https://www.gtbikev.com/wp-content/uploads/sites/2/2020/08/logo.png
156
466
Makinolo
https://www.gtbikev.com/wp-content/uploads/sites/2/2020/08/logo.png
Makinolo
2021-06-23 19:32:21
2023-02-07 22:27:05
New version 0.5.0.4 : BLE, Sterzo, Bots and BikeCity